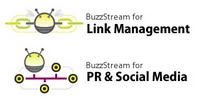 Many of you have already heard about BuzzStream, a wickedly cool tool for managing the processes of link building and buzz monitoring. I'm one of their advisers and have been thrilled with how they continue to improve it.
To that end, this week BuzzStream announced a series of improvements and features that I wanted to share with you. I don't use my blog to tout services, so this is rare for me, but it's well worth your time to give BuzzStream a try.
Here's a post from them explaining the new features, and here's a quick overview on the link building process management tool.
Try it. You'll like it.
Use this Category Navigation List to quickly move through my site
Newsletter                             
Private Strategy Session
Services                                    
Linking Articles