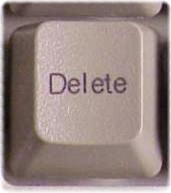 After nearly a month away from the blog, I'm not necessarily back to where I want to be, but it's time to be done with the pity party, kids gotta eat, mortgage(s)(s)(s) gotta get paid. First, thanks to you all for the many kind words, plus the excellent link building questions. I will answer them one by one starting tomorrow, but for today, I begin a new feature here at the Link Building Best Practices blog, called the LBBP Weekly Delete.
The Weekly Delete will feature a real link request email that I received in my own inbox, which in and of itself is just idiotic, but I get them every day. Some are priceless. This one, posted below for your pleasure, with exact formatting intact, is so bad it hurts. The saddest part of this to me is that someone somewhere was able to be convinced that this approach was worth paying for. It isn't.
Have a look and tell me, if you could give the very eager but misguided Rakesh one (and only one) piece of advice, what would it be?
__________________________________


—— Original Message ——–


Subject: Regarding Link Exchange With SITE-XYZ.com




Date: Thu, 14 Aug 2008 15:23:33 +0530


From: Rakesh<rajeshk@——-.com style="color: rgb(51, 51, 51);">
To: eric@ericward.com <eric@urlwire.com>

Dear Web Master,

We are in process of link building of our site to increase its relevancy and traffic with the top SEO Company's. I am sending you the request for becoming link partner.

As you can see my site ranks highly in Google with many keywords.
Title:

 Link Building India
URL:

 URL removed to spare them the indignity

Description: offers Professional link building services and link popularity building solutions. We offer reciprocal and non-reciprocal (one way) link building services, delivering high (PR) page rank and relevant links.
I will place your link here:-
URL removed to spare them the indignity 

 (2 PR)


URL removed  

(2 PR)


URL removed  

(2 PR)


URL removed 

(1 PR)


URL removed 

(1 PR)


URL removed 

(1 PR)


URL removed 

(1 PR) 


URL removed 

(At any category)


URL removed 

any  category)
Send your text link details to be added on my site, your link will be added immediately.
I will welcome any hearing from your side.
Regards,
Name removed to spare Rakesh the indignity


__________________________________
Use this Category Navigation List to quickly move through my site
Newsletter                             
Private Strategy Session
Services                                    
Linking Articles