Eric – that was an excellent session. We all enjoyed it very much, and got some valuable, immediately actionable learnings. I appreciated your deep knowledge and your obvious passion for this work- L.S., WorldVision.org
Individualized Live Link Building Workshops Led by Eric Ward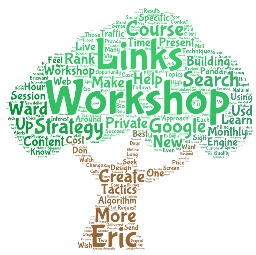 I design and present custom linking strategy and link building workshops live via screen-sharing for you and your team. Some clients sign up for one workshop every month, others select one or two workshops that focus on their areas of greatest need.
These workshops feature linking strategies and tactics designed specifically for your site(s).
Step One: you and I speak by phone to set the topics and agenda for the workshops
Step Two: I create the content for the workshop
Step Three: We set times and conduct the live workshop
It's a very easy process, and we can get it done quickly.
Workshops are participatory
I don't just lecture for 90 minutes while you try to stay awake. I want you to ask questions, make comments, see examples, and provide feedback. After the workshop/course has been presented, I send you a recording of the session (screen and voices).
Fees – $1,500 
Each live video workshop/course I create for you will be about 90 minutes long, focus on one or two very specific topics, and cost $1,500.
Below are example topics I can create a custom workshop around that focuses on your site. These are not generic courses. Each course is created by me for you and your site and objectives.
Workshop Topics Examples
What linking tactics make sense for your site in 2017 and beyond
Linking Tools Review – with so many available, which is best for your situation and why?
Outreach best practices – 20 years of seeking links and publicity have taught me a few things
How to inspire key influencers to link to your content
Link prospecting for your site using the power of advanced operators
Effective local link and citation strategies you probably aren't using but should be
Linking techniques for Google and beyond. The web is bigger than one search engine
Disavow or ignore? How to know when and why
Not all paid links are evil: When it makes sense to pay for links, and when it doesn't
Holistic linking (seeing all your site's linkable assets)
How the right use of social media can help you earn links and traffic
Stealth linking opportunities that your competitors can't find
How to announce a web site, new content, or app for maximum impact
On site link optimization – The best source of higher rankings might just be your own site
Missing link reclamation – Get those links back before they are deleted
Multiple Workshops/Courses
You can request as many workshops as you wish. The price will be $1,500 per one 90 minute workshop, which includes me creating the workshop content and presenting it.
Contact me for further details and to discuss which linking related topics make sense for you.
If you'd first like to get a better feel for my approach, style, and expertise, please consider signing up for a Link Building Strategy Session, or sign up for my private newsletter filled with high quality and natural Link Opportunity Alerts, linking strategies, Q/A, client linking case studies, news and tactics delivered straight to your inbox monthly. Learn more
Eric is without question in my opinion, the leading authority on link building for web site promotion. His depth of experience allows him to cut through the noise and focus on high value no/low risk web site promotion. — Lee Odden – TopRank Online Marketing
---
Background…
Feeling Anxious About Google's Ongoing Updates?
Long time linking strategy expert Eric Ward presents private link building courses to help you succeed in the new world of Penguins, Pandas, Hummingbirds, and beyond. Eric is respected linking strategist and consultant, and his live courses are designed to cut through the mass of incorrect information and give you accurate, actionable linking tactics, techniques and linking strategies that are specific to your site. Strategies that will help you overcome changing search engine algorithms, and at the same time teach you methods for creating new traffic streams so you are less reliant on search engines for traffic.
These days, relying on Google as your main source of traffic will cost you your business. Trying to optimize your web content for the search engines can feel like throwing darts at a moving target. In February 2011, Google quietly dropped a bomb on the online marketing world in the form of a major algorithmic update called "Panda." This change dealt an epic blow to sites with low quality and duplicate content as well as heavy advertising. With Panda, thousands of website owners watched in dismay as their rankings plummeted.
And Google didn't stop there. It released several more iterations of Panda in the months to come followed by Penguin in April 2012, which penalized sites using "un-natural" link building techniques. Google then introduced Hummingbird, its search algorithm that aims to improve the accuracy and relevancy of its query results.
The only constant at Google these days is change. Using a highly complex algorithm with over 200 factors, the search engine giant is on a mission to eliminate poor sites and poor content from its search results – and reward sites that provide useful information and content and actively engage with the social communities around their products and customers.
The most effective linking strategies are those that help you succeed regardless of your search rank. Unfortunately, too many marketers put all their eggs in Google's organic search basket, hoping to rank #1. Now more than ever you must learn how to develop relationships, links, and traffic streams that do not rely on Google's algorithms. Google is important, yes, but you must create an online presence that allows you to succeed no matter what fluctuations happen in the organic results.
Let me help you get where you want to be, so you don't wake up every  morning in a panic wondering if your Google rankings dropped overnight. The web is more than Google. Let me show you how to turn that fact into an actionable strategy.