Could it be possible for a site to be immune to bad links? If not, what happens if you disavow a good link?
First things first:
There is no such thing as a perfect backlink profile. Links are not static; links are not absolute, links are not defectless. Links can, however, signal manipulation to a bot looking for them, no matter how those links got there.
The inspiration for this column is the always outstanding Search Engine Roundtable, and their post "Are You A Link Disavower? Take Our SEO Poll". When I last checked, 80% of people responding to the survey had used the disavow tool to some degree.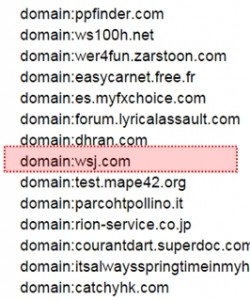 I Hate You. No, wait, I Love You!
One of the unintended consequences of this whole disavow frenzy is people are disavowing good links that were helpful for both traffic and organic search. I'm in the middle of a project right now reviewing thousands of URLs and have found multiple instances of great links that were disavowed and are no longer helping those sites. So it's a case of throwing the baby out with the bathwater, and we have to correct those issues by "reavowing" links.
Be careful you don't accidently disavow a link that has the power to help you
This whole process is painstaking and could have been avoided. The most obvious advice is don't build crappy links. But, that advice isn't enough, because what if you haven't built any and are just trying to eliminate bad links created by others?
Don't assume an auto-generated disavow service will produce a 100% accurate list of URLs. You need to have a human -a living person- review that list before uploading it, because chances are you are disavowing some perfectly good links along with the crap.
Is The Web Like Wine? Older = Better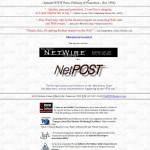 My site will be 21 years old this December. My site began at NetPOST.com in 1994, and after a few years, I re-branded at EricWard.com via a classic full 301. Ironically and purposely, my first site did not have the words "link" or "link building" on it even once.  Go ahead, click the thumbnail and check it out at full size.
But that's another story for another column.
During the years my site has been on the web, I have rarely and only selectively pursued links for it. But even though I have not sought links, my backlink profile is filled with scraped, copied, attacked, forged, and blatantly stolen content, some of which still has links back to my site, left intact.
But… because my site is so old, I do not disavow, and as I am overly fond of pointing out, I have ranked #1 for link building expert since before I had a kid in Middle School, so whatever nasty links are out in the wild pointing at my site, they aren't hurting me. However, and this a BIG, however, if my site was new, or just a few years old, I would disavow links like a monkey on crack.
If my site wasn't 21 years old, if it was new or just a few years old, I would disavow links like a monkey on crack.
Enter Link Immunity?
Here's my thinking, which is probably flawed but I think has some degree of logic to it.

During the first few years, I was in business, from 1994-1998, my site earned links because I was the only person with a site devoted to links. When the first batch of Web Design and Web Advertising trade shows came along, and I started speaking all over the country from in 1996-2000, it became a deluge. This wasn't planned. I received tens of thousands of legitimate links.
My site about links was like Danny's was with his old Webmasters' Guide to Search Engines. We earned links by accident because there was nothing else to link to yet 🙂
Fast forward to now, and IMO, the engines can see the natural link graph my site somehow developed over the years, so when the scrapers and spammers came along in the years that followed, my site had built "natural link immunity." I view the current link spam tactics like a virus, a plague even, and I do believe "natural link immunity" exists.
So now let's turn this post from nostalgic to actionable.
If you are considering disavowing links before you upload that file consider the following steps along the way.
First, read/use these outstanding disavow tutorials/best practices, but DO NOT upload your disavow file yet.
Best Practice Tips for Google's Link Disavow Tool from @brickmarketing
http://www.brickmarketing.com/blog/google-link-disavow.htm
Your Start-to-Finish Guide to Using Google's Disavow Tool by @Moz
https://moz.com/blog/guide-to-googles-disavow-tool
Avoiding the Penguin Slap: Best Practices for Backlink Analysis and Disavowing Links by @BrightEdge
http://www.brightedge.com/blog/avoiding-the-penguin-slap-best-practices-for-backlink-analysis-and-disavowing-links/
DisavowFiles.com – Free Crowdsourced Disavow Files Tool that Brings Disavowed Link Data to Light by @BruceClayInc
https://www.disavowfiles.com/
Now before you upload that disavow file to Google, read these
When Disavowing Links At The Domain Level, Don't Let Your Machete Turn Into A Guillotine by @GlennGabe @Sengineland
http://searchengineland.com/disavowing-links-domain-level-dont-let-machete-turn-guillotine-219301
29 Critical Myths That You Need to Know Before Doing a Google Disavow by @CognitiveSEO
http://cognitiveseo.com/blog/7797/29-critical-myths-need-know-google-disavow/
8 Renowned Experts Bust Common Google Disavow Tool Myths
http://cognitiveseo.com/blog/7282/8-renowned-experts-bust-common-google-disavow-tool-myths/
(even though they didn't invite me, dammit)
At this point, if you've read the above, you should feel more comfortable with the disavow process, and far less likely to make a mistake along the way. However, if you still aren't sure you're ready, and if you'd like a third party to look over your disavow file first, and if that file contains less than 200 URLs, I will review it myself, and if you're feeling gracious, you can give me a warm and fuzzy thank-you by subscribing to LinkMoses Private.
-Eric
Use this Category Navigation List to quickly move through my site
Newsletter                             
Private Strategy Session
Services                                    
Linking Articles