In a world of over-produced videos with little substance. It's great to watch these beauties from @ericward https://t.co/9GM8YSmCYD

— Dave Dewar (@davedewar) April 21, 2016

Use this Category Navigation List to quickly move through my site
Newsletter                             
Private Strategy Session
Services                                    
Linking Articles              
Live Linking Strategies Q/A  – Eric Ward answers your linking related questions live during a 2 1/2 hour Q/A session
Click below to watch
Summary: This live video hangout gave readers of my LinkMoses Private newsletter the opprtunity to ask any questions they wanted to about links, linking strategies, link development, online public relations, and many other topics linking related topics. Originally scheduled to go 2 hours but delayed twice due to weather, the video ended up being 2 1/2 hours long with hundreds of live viewers. The recording of the live video is now free for anyone to view.
I'll try to do these live video sessions at least once a month, with each one focusing on a different topic. So far, the most requests I receive are for live real-time Q/A sessions, so for now, that's what I'll do.
---
Outreach Roundtable Hosted by Eric Ward – Recorded Fri, Apr 15, 2016 (1:59:00)
Attracting and earning attention, mentions, and links to your content (or your clients) is a deceptively difficult, subtle and vital skill. Outreach is a key part of the process, but quantifying a "success metric" that can be applied to any project, client, or vertical is tough to pin down. Why? This Hangout will cover many outreach related topics, and is open to anyone who wants to join in and listen. I'll stay on the air for two hours, talk about outreach approaches, successes, and failures over 20+ years of outreach, and take your questions, because I'm a glutton for punishment.
---
Site Navigation and Link Building Brainstorm Panel – Recorded Dec 15, 2015 (1:16:57)
Link builders Eric Ward and Garrett French, and Site Usability Expert, Shari Thurow, joined forces to live brainstorm ideas for four participant-submitted websites. If you want to see how an industry expert's mind works in-action, this is the webinar to watch.

---
Website Navigation For Link-Worthy Content Assets – With Eric Ward, Shari Thurow & Garrett French (1:52:08)
If you think its title is a tome, just wait until you watch this webinar. It's longer than your favorite cable drama, but we promise Garrett, Shari and Eric pack just as much punch. Plus this video is a MUST-WATCH for anyone creating (or re-creating) a website's content assets. You'll learn:
– How to think of navigation first
– How, and for whom, to develop link-worthy content (the answer here may surprise!)
– Where to (and not to) place your site's best content assets
– How to develop link-worthy URLs
– Why children may be the best usability testers
– How inappropriate Eric Ward can get in front of a live audience…
---
What Is An Earned Link – An Interview With Link Building Expert Eric Ward  (4:11)
In this video I discuss the concept of "earned links" and how they differ from the types of links that Google ignores and/or penalizes. The biggest challenge when link building is recognizing and knowing how to increase earned links. Earned links, much like earned media, is and will remain the gold standard for algorithmic analysis of backlinks.
Eric Ward explains this fundamental issue for anyone doing a quality link building campaign. Eric offers workshops and consulting on this and many other linking strategies.
You can find out more at https://ericward.com/courses/
---
Link Building and Linking Strategy Live Q/A with Eric Ward (Edited ~101 minutes) 
This is the edited version of a two hour linking strategy Q/A, where I answered linking related questions in real-time, screen shared real-life scenarios and examples by request, and discussed some of my recent client linking work. I've been a linking strategist for 20 years, and since I can be on the speaking circuit like I was previously at over 160 conferences, these live video Q/As are the best way for me to connect right now. Hopefully once my three kids are a little older I'll get back out on the conference road again. Until then, I hope you find these videos helpful.
---
An Introduction To LinkMoses Private (3:06)
What is LinkMoses Private? LinkMoses Private is a private subscription-based newsletter filled with linking strategies, Q/A, client linking case studies, news and high quality natural Link Opportunity Alerts, delivered straight to your inbox at least monthly. Now with subscribers in 20 countries.
LinkMoses Private is not about tricking Google. LinkMoses Private is about linking techniques that help with both click traffic and organic rankings today and for the long term. The ultimate goal of LinkMoses Private is to help you improve and sculpt a more effective inbound link profile. This involves recognizing the wide variety of linking opportunities that are available to you, from social media to the deep web, if you know where to look and how to pursue them.  – See more at: https://ericward.com/linkmosesprivate.html


Expert Link Building Strategies and SEO
ViralHeat sits down with link building expert, Eric Ward to pick his brain about Penguin 2.0, social media, and the history and evolution of online marketing.

The Premiere Resource Center for
Digital Marketing Strategies and Tactics
Inside the Black Box: Debunking the Myths of Link Spam
Detection – and How You Can Benefit From It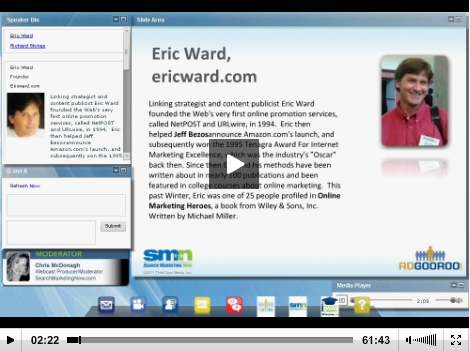 In this webcast, link-building expert Eric Ward and AdGooroo CEO Richard Stokes will provide an unprecedented look inside the "black box" of the search engines to 1) reveal the formulas being used to determine quality links from spam and 2) debunk the myths surrounding page rank, keyword density, title length, anchor text, word length, high value advertising terms and more.
---
WebProNews The insider Link building video discussion with Eric Ward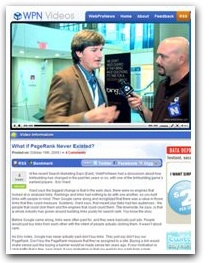 WebProNews' Mike McDonald and I discuss how link building has changed in the past ten years or so, and the implications for today's link builders.
---
Links, Link-Building and Public Relations with Eric Ward
http://digitalmarketingdepot.com/links-from-our-link-building-webcast-september-16-with-eric-ward-6603
Sponsored by Search Marketing Expo – SMX, Vocus and PRWeb – Link-building is a key component of a successful online public relations strategy. Do it well and your website or content will rank high in the search engine results. Do it poorly and you may never be found. Speaker: Eric Ward, ericward.com – Q+A Panelist: Chris Sherman 
---
Fundamentals of Link Building with Eric Ward– Part 1 (9:35)
Join Eric Ward in link building video module covering link building fundamentals. This is taken from his private white hat Link Building training class.