posted by Eric Ward on November 8, 2013, at 10.09 am EST
The two queries below are identical. The first query is
what is yahoo's current stock price?  (live result http://goo.gl/2dU4fJ)
As you can see, Google answered it for me directly, stating the sources as
Google Finance – Yahoo Finance – MSN Money
The second search changes nothing but the company name from Yahoo to Twitter, as follows
what is twitter's current stock price? (live result http://goo.gl/BMsbcd)

[Note: Make sure to check out my link building videos while you're here. I'm sure you will find them helpful]
Check out the below screen captures showing the results as of this morning at 10: am EST. I'll stay away from making any conclusions about why this might be happening, and I wonder if this result will change in time. If you're wondering, click this link below to see what Google gives for the search phrase what is Google's current stock price?
For now, my guess is perhaps Twitter is so new to the market new they aren't showing up yet. But then again, here they are in Google Finance. What are your thoughts?  One of the significant challenges content creators are going to face in the future (if they want to appeal to Google) is how exactly to become a trusted enough source of data to show up in the search results.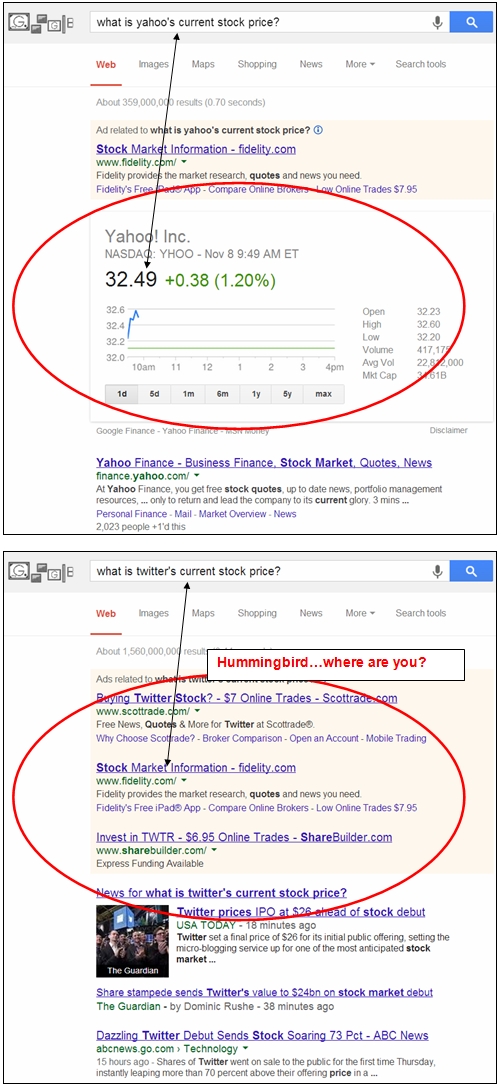 Again, I'd love to hear your thoughts over on either my G+ page or via Twitter @ericward.
Link well my friend,
Eric Ward 
aka LinkMoses
Use this Category Navigation List to quickly move through my site
Newsletter                             
Private Strategy Session
Services                                    
Linking Articles