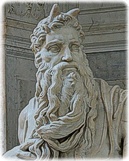 By now most who know me know the LinkMoses backstory.
I retired LinkMoses 15 months ago. LinkMoses had a fabulous run, earned over 100,000 links, (smoke that linkbait) and the post LinkMoses Linking Commandments – Part I remains one of my site's top five most visited pages.
So why bring LinkMoses back for thirty posts? Three reasons.

First, it's easier for me to speak my mind when I'm in LinkMoses mode. A defense mechanism that allows me to say things I'm chickenshit to say as Eric Ward. LinkMoses=Buddy Love, Eric Ward=Sherman Klump.
Reason 2?
The awesome post "Is Most Of SEO Just A Boondoggle?". Jill Whalen took heat for it, though she's one of, if not the most under-appreciated and intelligent voice out there. If you aren't reading High Rankings Advisor Search Marketing Newsletter, I have to ask you what the hell are you thinking? Stop reading this post immediately and go subscribe.
Reason 3?
I never wrote LinkMoses Linking Commandments – Part II. There was no reason to be greedy, and why be a Link Whore?
But, it's time.
LinkMoses will be back here for thirty posts. Rather than tell you what my goal is in doing this, I'll let the posts speak for themselves. The first LinkMoses Resurrected Post will be:
"What If Everything You Know About Link Building Is Wrong?"
It will be here Tuesday.
So let it be written…
Use this Category Navigation List to quickly move through my site
Newsletter                             
Private Strategy Session
Services                                    
Linking Articles